Last week one asylum seeker tried to hang himself and another drank a bottle of insect repellent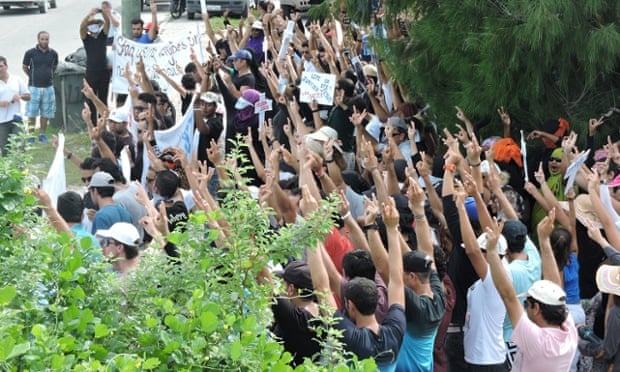 One asylum seeker tried to hang himself inside his tent on Nauru last week, while another drank a bottle of insect repellant and several hundred people protested in Nauru's largest city.
Despite the acts of self-harm and unrest, Transfield Services security personnel described the mood inside the Australian-run immigration detention centre on Nauru as "calm, and the threat level low".
Transfield Services situation reports, known as "sitreps", dated between 25 and 27 February, detail that two asylum seekers committed acts of self-harm over three days last week.
On 25 February, an asylum seeker was found being held up by another asylum seeker who had found him hanging and had intervened.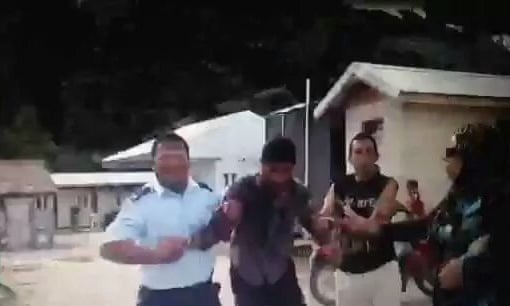 On 27 February, an asylum seeker was found in his tent lying on the ground. A fellow detainee had reported he had drunk a bottle of insect repellant.
"There was a strong smell of insect repellent coming from [the man]," according to the situation report, adding that the man appeared to have planned further acts of self-harm. "A subsequent search of [his] living area uncovered a further two bottles of RID insect repellent," the report continued, describing the incident as "superficial self-harm".
The documents are marked "sensitive for official use only" and Guardian Australia has chosen not to reproduce them or publish the names of the asylum seekers and staff involved.
But the reports are an insight into the continuing instability on the island, even as the detention camp moves to an "open centre" plan.
Asylum seekers are being closely monitored by Transfield's "intelligence unit" within the detention centre, known as the "Whiskey team".
"The atmospherics within the Nauru Regional Processing Centre have remained calm … individual occurrences of an aggressive or antisocial nature may continue to occur; however it is probable these will be attributed to personal issues and agenda, and unlikely to be linked to any collective concerns," the report states.
But in the same document, the intelligence unit also reported that large-scale protests were rumoured and possible.
"The intelligence unit will continue to monitor this internally and will report further as matters develop."
Throughout the week, refugees and asylum seekers refused to comply with detention centre staff. People boycotted classes, and refused to speak to case workers. Others, who have found work on the island, have gone on strike or quit their jobs.
The week culminated in protests by refugees on Saturday and Sunday. The largely peaceful protests involved men, women and children, and were closely watched by police, some dressed in riot gear. Some protestors carried crucifixes fashioned from cardboard, others held signs saying: "Stop using refugees for nasty political goals" and: "End the silence, stop the violence".
"Refugees on Nauru island protested again, to condemn the harsh policy of Australian government," one refugee said.
"About 400 refugees, hand-in-hand, showing the unity, strength, and enthusiasm to stand firmly. Till [this] day they are not getting any positive response from the authorities about their future and getting out of the situation they have been in for the last two years."
Another said there would be further protests and resistance to the resettlement process.
"There is a very tense environment in Nauru. Because now we are treated as farm cattle not humans. And we refugees have just become an income source for Nauruan community and corrupt Nauru government."
Several protestors said they were attacked by police and other security personnel. One reported being punched in the face.
Photographs show refugees being physically restrained, pushed and manhandled by police, but no violence. Other photos show men with scratched faces and torn shirts.
The Transfield situation report said: "It is probable that the claims of heavy-handed tactics being employed against a 'peaceful' demonstration are inaccurate, and have been purposely skewed by the authors in order to propagate discontent throughout the wider Nauruan community, and the broader perception of offshore processing".
A department of immigration spokesman said the protests were "dealt with by the Nauruan police force, which is responsible for the safety and good order of Nauruan society".
"The Australian government remains committed to the processing and resettlement arrangements in place on Nauru."
The government of Nauru did not return calls asking for comment.