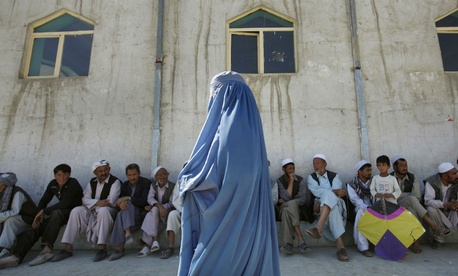 An Afghan woman walks to a polling station in Kabul.

David Guttenfelder/AP file photo
The newly inaugurated first lady of Afghanistan recently expressed skepticism about new spending on programs to promote the status of women in her country, a concern, it turns out, shared by the Special Inspector General for Afghanistan Reconstruction.
IG John Sopko on Thursday sent a letter to the acting administrator of the U.S. Agency for International Development with pointed questions on a plan to spend $416 million—a little over half from USAID and the rest from unnamed donors—on a program named "Promote" that USAID announced in July 2013.
Its goal is to "strengthen Afghanistan's development by boosting female participation in the economy, helping women gain business and management skills, supporting women's rights groups and increasing the number of women in decision-making positions within the Afghan government," the letter noted.
Based on past experience auditing such programs in Afghanistan, SIGAR expressed concern that no memoranda of understanding have been signed to properly track spending. "While I am encouraged by USAID's commitment to continuing its support for Afghan women at a time when overall funding for Afghanistan reconstruction is starting to decrease, I am concerned about whether the agency will be able to effectively implement, monitor, and assess the impact of Promote," Sopko wrote to Alfonso E. Lenhardt. "Moreover, and importantly, I am concerned that some very basic programmatic issues remain unresolved and that the Afghan women engaged in the program may be left without any tangible benefit upon completion."
He quoted Afghanistan's first lady Rula Ghani, "I do hope that we are not going to fall again into the game of contracting and sub-contracting and the routine of workshops and training sessions generating a lot of certificates on paper and little else."
The Promote contract, offered for five years as an indefinite delivery, indefinite quantity type, was awarded last October to Chemonics International, Development Alternatives Inc. and Tetra Tech Inc. for work in a country where transportation is spotty and many areas remain vulnerable to attack by Taliban soldiers.
The IG asked how the U.S. contribution of $216 million was determined, what commitments are in the works for international donors, and how timelines and data collection for fulfillment of the contract are structured. "With which private sector and civil society entities has USAID secured buy-in and participation in the Promote program?" Sopko asked. "What types of higher level opportunities will be available to Promote beneficiaries? "
The letter also sought projections on future sustainability.  "Once the Promote program concludes," it asked, "how will USAID ensure that women maintain their positions or find new leadership roles?"
In announcing Promote's launch last November, then-USAID Administrator Rajiv Shah said it would be accompanied by $110 million for women's nutrition and health programs. "Promote helps the Afghan people see that investing in a woman's chances to succeed is essential to their own economic prosperity and national security," Shah said. "By investing in women as champions for development, we can advance peace and broad-based growth across Afghanistan."