Google translation – Original link in Croatian – http://www.jesenski-turk.hr/?active=knjiga&book=87928&lang=en
By Robert Mikac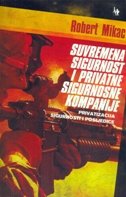 publisher: AUTUMN AND TURK
About book
Although the use of the private sector in the area of ​​security is not new, the end of the Cold War ushered in a new era in which some governments dramatically increased their reliance on the private sector, including private security companies, the improvement of national and international security. Many analysts firmly believe that the large international operations such as those in the Balkans, in Afghanistan and Iraq would not be implemented without their help.
The growing role of private security companies in international relations attracted great interest from politicians, analysts, academia, media and the public. Despite the interest and abundance literature, reliable and profound research of this phenomenon remain limited in the area of ​​security studies. In practice, many serious problems and disagreements have emerged as a result of controversies involving private security companies in high-risk operations such as those in Iraq and Afghanistan. As a result, there is a series of questions, including those about the consequences of the use of lethal force as well as direct participation in hostilities, question their legitimacy and legal status issues, respect for the law and human rights, control over them, and issues of accountability and transparency.
The book investigates and analyzes the contemporary challenges of today as well as the available response mechanisms and to the aspect of privatization of the security sector. This is one of the most interesting and most far-reaching implications of social phenomena in modern political history. This is an original study no similar kind in the university curriculum. The study goes from side to foreign analyzes this problem and would be, that is translated into one of the world's languages, a standard work in the framework of international productions.
The work is intended for specialists in the field of social systems and security studies, then members of the military and security agencies, and generally experts in sociology and political science, and it will be interesting and instructive, and for the general educated audience.
Ozren Žunec
The study is a masterpiece in socijalnoznanstvenim research issues of national, international and private security. It is not only a reference for any future research in this area, but also a standard that in the coming period must be considered. Even if it comes to the science of high quality, the author has simultaneously managed to write a read text easily understandable to the wider population outside of academic and professional circles closely. The author has presented and explained, with an impressive amount of literature used, almost all the essentials as the privatization of national security need to know not only scientifically educated readers, but interested readers in general. In short, the book is very compelling and lucid presentation of "private" in the national (international) security, their entanglement and mutual conditionality.
VII No